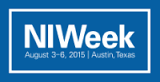 We are excited to announce that Aledyne Engineering, Inc. has two products selected as 2015 LabVIEW Tools Network Award finalists, the Arduino Compatible Compiler for LabVIEW and Spreadsheet Express.  Winners will be selected during Alliance Day on Monday, August 3rd.  Drop by booth 1004 to see live demos and to get special product pricing during NIWeek.
The Arduino Compatible Compiler for LabVIEW will take a LabVIEW program and compile and download it to Arduino compatible targets.
The Touchscreen Toolkit for LabVIEW enables LabVIEW developers to enrich the user experience of their application by enabling multi-touch and gesture recognition.  A new feature now includes an interface to built-in sensors on Windows tablets including accelerometers, gyroscopes, inclinometers, orientation and light sensors.
Spreadsheet Express helps you automate Excel data processing from LabVIEW with ease.