We have great news to share! The most functionality rich version since product launch has been released.  Version 1.0.0.15 is now available for download in VI Package Manager and at http://sine.ni.com/nips/cds/view/p/lang/en/nid/213121.
We are proud to announce that now the community can use the newly added SPI and I2C API VIs to take advantage of the hundreds of different Arduino I/O shields that use these two protocols as a way to communicate with Arduino boards. Moreover, we have included support for SD Card shields. We believe that, along with SPI and I2C, the ability to save log files to SD Card media will further enable the community to use Arduino hardware for test and measurement applications.  Also included are examples for interfacing to an SPI thermocouple module and an I2C Real-Time Clock.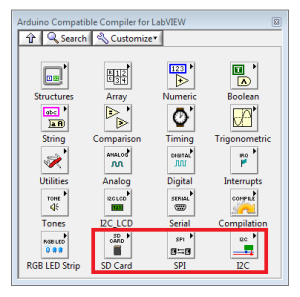 Last but not least, we have added a Debug Tool API VI, which simplifies the task of debugging embedded Arduino code. Refer to the shipping example for more details on how to take advantage of this tool. You can also refer to the release notes for a complete list of new features and bug fixes.
As always, we are continuing to work on increasing the product functionality set and will inform the community about any new upcoming releases.
Thank you again for all your support.  If you haven't already, you can check out the user forum at www.geverywhere.com to get answers to commonly asked questions and to post new ones.